Japanese Standard Comforter Cover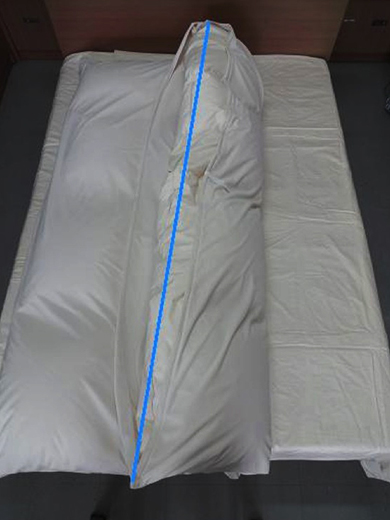 Using a fully opening zipper that can be opened up widely along its entire length, this convenient cover makes inserting and removing comforters a snap.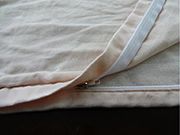 The zipper is sewn into the hem of the cover so that it doesn't come into contact with the user's skin.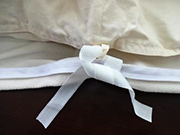 The comforter and cover are laced together and held in place by inner ties to prevent shifting. (There are typically 8 ties—one in each corner and one each in the top, bottom, left and right sides of the cover.) The inner ties have undergone heat-resistance treatment so that they can be washed without becoming frayed.
This X-shaped zipper was designed in the pursuit of greater convenience for the user when inserting or removing comforters.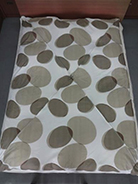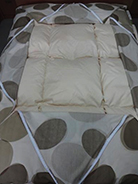 Two-Layer Solid Quilted Down Comforter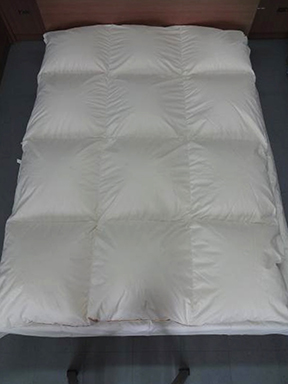 In normal quilts, the top and bottom fabrics are simply sewn together.
This kind of quilting makes it easy for heat to escape through the seams.

In solid quilts, the down material is stuffed separately into each individual quilt block by sewing gussets into the quilt sections. This form of quilting is commonly used in down comforters, as it maintains the comforter's thickness while ensuring that the down material is spread evenly throughout the entire area of the comforter.

This is a down comforter that uses two-layer quilting. Although this technique makes it somewhat more difficult to spread the down material evenly around the seams, shifting the alignment of the top and bottom solid quilt sections results in a remarkable increase in heat retention.
All-Season Reversible Mattress Pad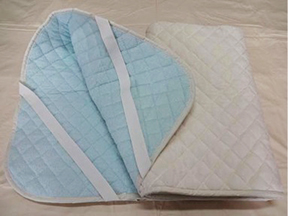 This mattress cover is made using warm Mayer cotton fabric on top and cotton pile fabric for summer use on the bottom.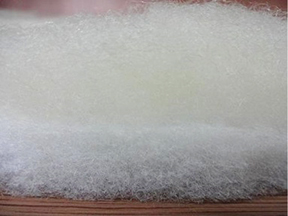 The insulation material can also be given a two-layer structure.
(Top: Warm padding for winter. Bottom: Moisture-absorbing, fast-drying padding for summer.)